AFC Bournemouth never had any right to be in the Premier League. A small south coast team with a tiny stadium, they had spent their history slogging away in the lower leagues not even dreaming of one day playing in the top flight. Indeed, until the 1980's they'd never even played in the second tier of English football.
But Eddie Howe changed that. He made fans dream, and then he turned those dreams into reality. Having taken over a club that was on the verge of slipping out of the Football League, he led them to three promotions in seven seasons. A feat made all the more impressive when you factor in that he spent over a season and a half at Burnley in the middle of that run!
Bournemouth marched into the Premier League and were immediately tipped for relegation but Howe's side, playing an attractive brand of football, shocked everyone by finishing 16th and securing a second season in the top flight.
That second season saw a 9th place finish, they followed that up with 12th and 14th place finishes and seemed, in the summer of 2019, to have established themselves as settled Premier League team with the potential to build a fringe European contender heading into season five of their Premier League adventure.
A year later, Bournemouth have been relegated and Howe has left the club by mutual consent.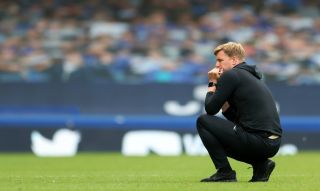 There are a number of factors that contribute to a team getting relegated. Here are five things that led to Bournemouth's Premier League demise.
A Consistently Bad Defence
There's just no sugar coating it. Bournemouth have been terrible defensively since arriving in the Premier League. Over their five year stay they conceded an average of 66 goals. Their best season was 17/18 with 61 goals conceded, their worst was 18/19 when they shipped 70. They had one of the five worst defences in the league in each season, and were in the bottom three for goals against twice. That's simply not sustainable and it falls on Howe's shoulders. He hasn't learned how to set his team up defensively. That has cost Bournemouth the ability to grind out recently. Wins became draws, and draws became losses. All because of that defence. Howe isn't alone in his failings, many coaches who play a similar style of attack minded football don't know how to set up a defence. They're easy to spot. They're the ones that play a base unit of 4 but switch to a back 3 in big games because they think that getting more defenders on the pitch automatically makes you better defensively.
Howe spent plenty of money trying to solve the defensive issues but buying players doesn't help if the coaching is lacking. That does move us on nicely to our next factor though.
Bad Signings
We might as well go season by season and break this down.
2015/16 – Arthur Boruc, Sylvain Distin, Adam Federici, Josh King, Glenn Murray, Tyrone Mings, Max Gradel, Lee Tomlin, Benik Afobe, Lewis Grabban.
That group arrived at a cost of roughly £41million. A huge amount for a newly promoted club at the time. Especially one of Bournemouth's size. Of that group, only Josh King can be called a real success. He cost £1million. There's probably an argument for Boruc, but he arrived on a free. That's £40million badly spent in one season.
2016/17 – Emerson Hyndman, Lys Mousset, Mark Travers, Lewis Cook, Jordon Ibe, Brad Smith, Marc Wilson, Aaron Ramsdale.
That group cost roughly £35million, and is an improvement on the previous seasons efforts. Cook has shown he's a quality midfielder and has only been held back by injuries, and the two young goalkeepers give real reason for optimism. But those three cost a combined £8million. The rest was not well spent and the money given to Liverpool for Ibe and Smith has proven to be a disaster. Why Smith, who Liverpool had released and then resigned purely as squad cover, was someone Howe saw fit to spend £6million on remains a mystery.
2017/18 – Nathan Ake, Asmir Begovic, Jermain Defoe, Connor Mahoney.
A quieter summer, but still an expensive one with £30million spent on Ake and Begovic. Ake has undoubtedly been a success and looks set to leave for £40million this summer, but Begovic was not a success and spent the past season on loan at Milan.
2018/19 – David Brooks, Diego Rico, Jefferson Lerma, Dominic Solanke, Chris Mepham
Howe went big and splashed nearly £75million over the summer and January windows, to mixed results. Brooks has been a success, Rico and Lerma have shown flashes of justifying the fees spent on them and Mepham could well prove himself a quality defender if given more chances. But the Solanke deal made absolutely no sense. An enormous outlay on a player who had not proven he could score regularly at the Premier League level. He's still very young and may come good, but Bournemouth needed a here-and-now player for that sort of money. The summer window was quite a good one, the January window was poor.
2019/20 – Lloyd Kelly, Jack Stacey, Philip Billing, Arnaut Danjuma.
Another big outlay, with £50million spent in the summer. All four are talented players but none can be called successful signings at this point. Kelly barely played all season, Stacey struggled to adapt to the quality of the Premier League, Billing was inconsistent and seemed ill-fitted in Howe's style and Danjuma struggled for a number of reasons.
If I'm being generous I could maybe mark 9 of those signings as successes. There's probably about 6 or 7 who you could say the jury was still out on, or there are mitigating circumstances. But that still leaves almost 50% as failures.
Mings and Mousset are both forging successful Premier League careers elsewhere and Bournemouth can point to them as being successful because they made profit on them, so I'm included those in the nine. But neither made a real impact for Bournemouth.
Stacey and Mepham are strange transfers to me. Stacey, a right back, was signed from Luton Town. If Bournemouth had been looking for a right back, and watching Luton, how did Stacey catch their eye when a far more impressive right back in James Justin was outperforming him on a weekly basis. Same goes for Mepham at Brentford, where he partnered the clearly more talented Ezri Konsa. Bournemouth spent roughly £16million on Stacey and Mepham, Justin and Konsa moved for about £18million combined. A back four of Justin-Konsa-Ake-Kelly would have given Bournemouth something to really build from, but Stacey-Mepham-Ake-Kelly could also have done very well. If those young players had been given a chance. That brings us to factor number 3.
Too Loyal to the Old Guard
Adam Smith, Simon Francis, Steve Cook, Charlie Daniels, Dan Gosling, Andrew Surman and Junior Stanislas.
All played key roles in bringing Bournemouth up into the Premier League but in 2020 none of them are Premier League calibre players worthy of playing a big role. Howe stuck with these "tried and tested" lieutenants season after season when each of them continually failed to get the job done. Loyalty is a great thing, but not when it's misplaced and while it would be beneficial to keep two or three of that group around as squad players, it was a big mistake to keep them all at the club, and a bigger mistake to continue to play them as regular as Howe did.
Ironically, those players may now serve a greater purpose as Bournemouth will be playing the 2020/21 season in a league more suited to their ability.
But it wasn't just the insistence on keeping the old guard who weren't up the standard that has cost Bournemouth, the refusal to sell players at their peak value has been costly as well. That brings us to the next factor.
Ideas Above Their Station
Football is a food chain. There is a pecking order. It's important for teams to know this and to understand their place in the pecking order. Bournemouth seemed to be under the impression that all Premier League clubs are equal, and that's simply not the case. They seemed to think that the best thing for them was keep their best players, and damn the consequences.
Over the past 20 months or so Bournemouth turned down rumoured bids for three players that totalled over £100million. First there was Callum Wilson, whom Everton allegedly offered £40million for. Then there was a supposed £25million bid from Arsenal for Ryan Fraser. And finally, there was Manchester United's £35million bid for Joshua King.
While it's perfectly understandable for Bournemouth to want to keep their best players, the reality is that they should act more as a stepping stone club who buy cheap, develop well and sell high. They signed Wilson, Fraser and King for a combined £4.4million. They could have sold them for over TWENTY TIMES that amount. That money would have helped replace the trio and replenished the vault in the event of relegation. That money could come in very handy right now. As it stands, Fraser has left on a free, Wilson's price is rumoured to be half what it was last summer and you'd imagine the same is true of King. While £37.5million would still represent a big profit on the players, it's a failure to maximise their value and safeguard the future of the club.
Injuries
Not all the blame can be laid at the feet of Howe, though most of it should be. But there is one area in which he can't be blamed. One area that is largely just plain old bad luck. Nathan Ake missed over 10 games through two separate injuries, David Brooks missed almost the entire season after a terrible ankle injury, and Lewis Cook missed the start of the season and then struggled to fully recover form after tearing his ACL last season. That's their best defender and arguably their two best midfielders. What difference could those three have made if they'd been fully fit all season? Lloyd Kelly missed 19 games through injury and could well have solved the leftback position that was such a problem all season long.
Bournemouth were unlucky with injuries and it did definitely contribute to their relegation, but the other five factors listed are what set them on a course for the Championship. They were the masters of their own downfall and while there's no doubt that Eddie Howe is a good coach, he'll need to improve defensively where-ever he goes next. And be kept quite a distance away from the purse strings.