"You drive for show but you putt for dough."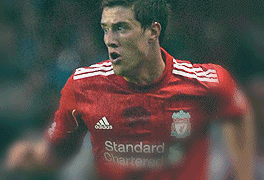 The quote, above, is by South African golfer Bobby Locke. You can bask in all the applause for a 300 yard drive off the tee, but there'll be no one clapping when you miss from 2 feet. But how it applies to Liverpool so often this season in the Premier League. Most Liverpool fans will have said at least once in the last week or so, "it wasn't the greatest performance but we've got the Cup". And yet in a paradox we have had to suffer all this season from dominating teams but not being able to put them away (no pun intended).
A hot bath. An expletive ridden rant. A punch of the sofa. Nothing cured the sense of disappointed indignation I felt as I watched us control and out play the opposition in another game from start to finish, and come away with nothing but a sense of what might have been. We racked up another 2 strikes of the woodwork against Arsenal at home. Dirk Kuyt and Luis Suarez only troubling the Anfield goalpost painters and not Woijcech Szczesney.

The clichéd "one of those days" was coming into mind when the usually cool Dirk Kuyt placed his penalty to Szczesney's right, but well within reach. The cliché seemed to ring true even more when the rebound couldn't be scrambled home. Yes Kuyt missed against Everton but still he would've had my vote as penalty taker. My heart sank just a little as Charlie Adam appeared to be nominating himself to take the penalty. Not just because of the wildly misdirected spot kick in the Carling Cup final, but his inconsistency shown all season. We are far from seeing the game changer we saw in an orange shirt. Free kicks, bullet shots on target from outside the box, pin point corners, were all part of the expectation of Adam coming to Anfield. This has not been in evidence, an instead we do tend to see only flashes of his vision, interspersed with being caught out for pace and giving away free kicks in dangerous areas when trying to recover.
We started with 3 key losses: Johnson with a hamstring problem; Agger sustained a rib injury, his second of the season following the one suffered in the early season defeat to Spurs. Let's hope he is back in less time than his previous 4 week recovery period. Gerrard with a hamstring tweak sustained on international friendly duty. I am sure this grated with Dalgish given the importance of the upcoming game against Arsenal. He hid it well, saying it might as easily have happened in training. But it must have irked when penetrating forward play has been one of our Achilles heels this season.
So who stepped in? I have been advocate of Martin Kelly at right back for some time over Glen Johnson. He has power and pace and his final ball had previously been good. Against Arsenal it wasn't, with Suarez venting his frustration at the defender's sometimes poor decision making on final delivery. This is not something Johnson would've been accused of, often choosing to cut inside and present a threat of his own (The marvellous curled shot on to the bar against Cardiff in the cup final for example).
More: van Persie, Aguero, Rooney, Ba, Suarez, Bellamy, Carroll & Kuyt compared on pages 3/4…