After the high profile exit of Luis Suarez, fans were wondering how Liverpool would replace the world class striker who had scored a club record 31 goals in the Premier League last season.
There was never going to be one high profile signing to replace the Uruguayan and indeed as it has turned out, manager Brendan Rodgers has looked to replace the striker's goals in various ways, as well as his invaluable assists, instead of bringing in one single player.

The arrival of Adam Lallana, Lazar Markovic and Rickie Lambert will more than make up for Suarez in terms of creativity as he ended up with the second highest assists in the league behind captain Steven Gerrard, with all but one assist coming from open play. What was left to be replaced were the vast amount of goals the buck-toothed magician conjured.
Having had one of the most productive transfer windows in the past decade with some cracking signings, the Reds now look to add AC Milan's Mario Balotelli in a move that gives as many answers as it raises questions.
Brendan Rodgers revealed that the club needed another striker after Sunday's win against Southampton as he said, "I do still think we need another striker and it is something that we will look at although that will depend on the availability of one."
What the move means for Liverpool
1) Strength in depth upfront :
Liverpool needed to sign another striker before the end of the transfer window and for good reason. They will be playing across four competitions, with matches coming thick and fast over the course of the season and there will be a lot of occasions when the Reds have three games in a week, unlike last season, when they could concentrate on the league. Balotelli will not be a direct replacement for Suarez; at least that's not what will be expected from him when he does play in the side alongside Sturridge.
Rickie Lambert would realistically be only looked upon as a back-up striker who can come off the match to change the game, like he did against Southampton on the opening day. Fabio Borini meanwhile, has been told by the club that he is free to leave with Sunderland waiting for his approval. Balotelli's Italian counter-part is surely left with no choice but to accept a move away from Anfield.
2) Sturridge's injury record:

Like last season, Sturridge was carrying a minor knock before the start of the season and was in a race against time to be fit for the first game of the season. having missed Liverpool's last two matches in the International Champions Cup in the pre-season. He missed 9 games last season, which included Liverpool's crucial away losses to City and Chelsea during the Christmas period, two matches in which Liverpool dearly missed the striker upfront.
The England international has a history of hamstring injuries, which have forced him to miss a lot of action over the past couple of seasons. He was withdrawn after two thirds of the game in the top of the table clash in which Liverpool beat City 3-2 with a hamstring problem, and was limited to a substitute role in the damaging 2-0 loss to Chelsea. Rodgers has made sure that he has able bodies to step-up this time around in case injuries rear their ugly head this time around.
3) X-factor
Liverpool are obtaining a proven goalscorer both in the Premier League and in the Serie A. Having joined from City at the beginning of last year, he has scored 30 goals in 54 games in all competitions in one the poorest Milan teams of recent times. The volatile nature of the player means that on his day, he can prove to be unstoppable. Liverpool needs to discipline him into a player who has far more of those days than not.
Moreover, Super Mario brings with him that surprise package in a side that has been left with a void because of the departure of Suarez. He can score outrageous goals and can be audacious to the point of cocky at times; although that's an issue that has to be addressed as the striker needs to be humble, akin to the transformation that Daniel Sturridge has gone through.
4) Invaluable experience at the age of 24
Balotelli has an experience of eight top-flight seasons of football behind him having won three Serie A, one Premier League, the FA Cup, Coppa Italia, the Champions League as well as a runner-up medal in Euro 2012 and has represented his country 33 times becoming their main man upfront under the reign of Cesare Prandelli.
More importantly for Liverpool, he has seven goals and has seven assists in 31 Champions League games and with most of the squad having no taste of Europe's elite competition, this might prove to be invaluable as the Reds make their return for the first time since the 2009/10 season.
5) Commercial boost:
The number 45 jersey will sell like hot cakes and will bring in a windfall as the Liverpool fans will relish cheering for another cult hero after Luis Suarez. Balotelli will also give the club's commercial outlet a boost with his image rights and many sponsors which include giants Puma.
What the move means for Balotelli
Balotelli moves from an average Milan side that finished outside the European places as they ended up in the 8th position, a 16 year low after the 10th place finish during 1997-98. In a free-flowing attacking team that Liverpool has become, he will prosper because he'll find himself on the end of numerous chances. He is set to become a fan favourite and has a great opportunity to hone his skills and develop into a fearsome striker that he has always promised to become.
More importantly, he is in the 'last chance saloon at European football's top level' as his agent Mino Raiola has duly noted. He has been unsettled at all his previous clubs and with his prime fast approaching, he couldn't have wished for more.
Having unfortunately faced a lot of racist abuse during his time in Italy as well as with the national team, he won't have to worry too much about in the England where they have much more stringent rules, and he will settle down quickly in a country where he already has spent two and a half years.
However, he will be under the media's gaze 24*7 being who he is. Recently, Italian publication La Gazzetta dello Sport claimed that in the 568 days that Balotelli was in Milan, he made 788 headlines which comes down to 1.3 per day; a figure that will amusingly increase because of the nature of the English press.
Balotelli's style of play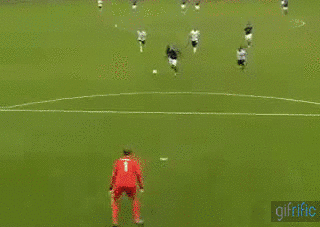 Balotelli has almost every skill that is required from a top striker. He is quick, has good close control of the ball along with a great first touch and is a really cool finisher. The six foot three inches 194-pound striker also has an incredible balance for his someone of his physique.
He likes to come short to receive the ball in order to get involved in the play and has a penchant for threading through balls to the wide players. With his great positioning sense and good reading of the play, he finds pockets of spaces for himself to get into goal scoring positions. And once in those positions he has a lethal shot on him like this:
Also a free kick specialist, he will take up the duties of Luis Suarez when he lines up along with Gerrard for set pieces.
On the downside, he has a reputation of being very undisciplined with 47 yellow and 5 red cards in 158 appearances over his career with 16 yellows and a red coming in the past one and a half years in the Serie A, and 12 yellow cards and three reds collected during his time at City.
And he is an absolute nightmare when he goes invisible during games in which things aren't working out for his team. In big games when his time are behind, he has lacked the qualities to grab the team by the scruff of their neck and drag them forward. His agent has been aware of this fact and is hopeful that he will be able to work hard for his new team as a unit, rather than being looked upon to provide motivation and that is evident by his decision to take a 50% pay cut while moving to Liverpool, as perhaps the player himself realises the importance of doing well for the sake of his career.
Balotelli statistics

Mario enjoyed the best spell of his career in the second half of last year having recently joined Milan. With 12 games in 13 appearances, he almost single-handedly dragged Milan into the Champions League places. He scored 14 goals last season along with six assists.
He has a knack of taking far too many shots from long range that tends to frustrate his teammates, with close to an average of four per match coming from outside the area during his time at the San Siro, though that was certainly down to the lack of support he received from his teammates there.
He has vastly improved on his shot accuracy though, with more than 50% of his shots on target despite league highest 105 shots taken by the trigger happy Italian in the Serie A last season. Consequently, of the 117 players to score 10+ goals in Europe's top 5 leagues last season, Balotelli had the worst conversion rate at 9.2% and he will be required to cut down his unnecessary shooting.
Balotelli has a lower minutes per goal ratio for A.C. Milan in Serie A (132) than Sturridge (136) or Suarez (138) in the Premier League and no other Premier League player has scored more goals than Balotelli (26) during that time than Sturridge (30) and Suarez (37); though they include a high number of penalties, something that he would only be assigned to do in the absence of the talismanic Liverpool captain, and only 12 were from open play.
He also likes to take on defenders with his quick and powerful dribbling style and has recorded a success of more than one out of two take-ons. He also suffers a lot of fouls and that will give him opportunities to light up the league with his free-kicks.
How he will fit in at Liverpool
This is yet another typical Brendan Rodgers signing of a versatile player who can operate in multiple positions. The two formations favoured by the Liverpool manager are the 4-3-3 and 4-4-2 with a diamond midfield. The Italian number 9 can play alongside England's number 9, dropping just off him, and also out wide on either side from where he can drift in to support him.
He will need to fit into the Liverpool side that is quite different to the style of play that he has grown accustomed to. He would be required to harry and close down defenders whilst chasing loose balls, a mantra that made Liverpool so successful last season. Also he will have to work hard every single time he wears the Liverpool jersey and ensure that he doesn't let his head drop when things aren't going his way. All in all, a massive change in attitude of the player is warranted because if, and it's a big if, he is able to get his head down and begin to realise his potential, he has all it takes to become an unstoppable force.
Disciplining Mario

Reports suggest that Arsene Wenger pulled out from signing the 24-year-old because he doubted the player's temperament and commitment levels, despite most of the player's wrongdoing coming during his time at Manchester City, about which Juventus midfielder Andrea Pirlo has written in his autobiography:
"Anybody who still talks about him in that way (about being immature) is living in the past and I have always said that in the right environment, he has the potential to be one of the best strikers in Europe."
Brendan Rodgers has insisted upon a behaviour clause to be inserted in the striker's contract because the club are aware of the fact that Balotelli has had various disciplinary problems. The clause dictates that the striker could end up losing £2 million a year if he misbehaves, as the Northern Irishman sets in stone his intolerance towards indiscipline.
Sports psychiatrist Dr. Steve Peters would't have even thought in his dreams that after Luis Suarez, he was going to have someone so volatile to work with. But as it stands, Balotelli will be without a doubt the toughest player he will ever have to deal with, and set straight.
Conclusion

Liverpool Football Club have made a massive statement with the signing of Balotelli but there is a lot of work to be done on the Italian if he wants to become a world class player. Rodgers backs his ability to turn an erratic footballer with bags of potential into a superstar, and that is the reason Super Mario has been brought in. In a market where Shane Long went for £12 million and Fabio Borini could be sold for £14m, a £16m gamble is a low risk-high reward one. If it doesn't work out, the 24-year-old can be offloaded in a couple of years without bearing much of a loss. If it does though, Liverpool fans have every reason to be optimistic about signing a very good player who can improve massively if he remains disciplined and concentrates on his football.
Lastly, it will be Rodgers' words in his latest press conference, and how Balotelli perceives them, that might prove to be the difference in what the future holds:
"We have a culture of performance, of people working very hard that creates the talents and gives them the opportunity to blossom and nothing will ever stand in the way of that. As long as they show they care, want to learn and develop, we can give them the opportunity."
Will Super Mario take this opportunity?