Next up the visitors at Anfield are Tottenham Hotspur. The corresponding game earlier in the season will be remembered by Liverpool fans for all the wrong reasons. Agger came off injured in the 27th minute, replaced by Coates, and then immediately Charlie Adam was sent off in the 28th. Discipline-wise a lot of things went wrong, not helped by the referee, but Skrtel, Coates and Suarez all got yellow cards between the 28th and 63rd minute when Skrtel received a second yellow and promptly got sent off also.
Liverpool ended up losing the game 4-0 which so far is our worst defeat of the season. It's worth noting however that we didn't start that game off in the right manner, and we were under serious pressure even before Charlie Adam got sent off. In fact up until that point Liverpool had only attempted 32 passes in the attacking third, compared to Spurs who'd attempted more than double that amount at 70. In fact those first 28 minutes reminded me of the recent Bolton debacle.

Since that game Tottenham have went on a 'triffic (pardon the pun) run and now find themselves in third place only 5 points off the leaders and 11 points ahead of Liverpool. Spurs form guide and last six reads WLDWWD – the only loss coming against Manchester City at the Eithad where some might say they were unlucky to lose 3-2. And although Tottenham have been playing some great football and getting fantastic results the real test will come from now until the end of March where they play, amongst others, Liverpool (A), Newcastle (H), Arsenal (A), Man United (H), Everton (A), Stoke (H) and Chelsea (A). That is tough run of fixtures for any team in the Premier League. If they come out of that with a healthy lead over the teams fighting for the Champion's League places then they may have third place at the very least sewn up. Lose against us though and it cuts the gap to 8 points and with those run of games they may find themselves dragged back into the battle with us Arsenal and Chelsea.
Liverpool go into this game on the back of two morale-boosting victories against both Manchester clubs. The first against City taking us to the Carling Cup final and the other knocking our great rivals Untied out of the FA Cup and sending us through to the next round where we meet Brighton at home. In the grand scheme of things the importance of those two results may not become fully known until the end of the season, suffice as to say it may have an effect something akin to the win against Everton when Gary Mac scored 'that' goal and gave us the impetus to go on and win three trophies in 2001. I'm hoping for something similar this year. Having said that we must not forget the dire performance and result against Bolton recently. In the League our form reads WLDLWD – our two defeats in the last six have come against Bolton and an unlucky defeat against Man City where we controlled the game but failed to put the ball in the net. With Chelsea playing Man United at home on Sunday a win against Spurs on Monday could conceivably put us a lot closer to Chelsea and that much coveted Champion's League spot. This really is a pivotal game in our season.
So what team do we pick? What is the best team and formation that we can pick to help win us the game? First off, I think we need to take into account the brilliant form of Spurs this year and pick a team not only to help us win, but with one eye on counteracting how Spurs play. Spurs usually play a traditional 4-4-1-1 which comprises of two old fashioned wingers (Bale/Lennon), a big man up front (Adebayor), a clever playmaker (Van Der Vaart) operating in the zone in front of the opposition back four, and their central midfield will consist of destroyer (Parker) and creator (Modric). Nothing new here. A fairly standard way of playing a 4-4-1-1. At first glance, yes. However when you look a little deeper they really have players who are comfortable in their roles. There aren't many 'square pegs in round holes' so to speak. It's simple, but very, very, effective. As their results this season have proven.  This Tottenham team is a great example, that if you buy the right players, play them in their rightful positions and in their best suited formation, then it goes a long way to having a successful team. Football is a simple game somebody dear to our hearts once said.
My belief is that we should stick to the formation (4-3-3) that we played against Wolves. Our back 5 picks itself at the moment, however, with several players coming back from injury and some players coming into form the midfield is not so cut and dry. Spearing is a must against a very attacking side like Spurs, and with Gerrard fit again you'd expect him to start. That leaves one slot open in a 3 man central midfield. For me Henderson gets that spot. Spurs have an exceptionally quick midfield, and my fear if we start Adam is his lack of mobility. On the left, Bellamy is a no brainer, with Downing struggling for form and Bellamy scoring goals then it's not even a contest at the moment. Furthermore, I think it is essential we start Dirk Kuyt high on the right. The left axis of Bale and Assou-Ekotto for Spurs is so strong that I believe we would be foolish to ignore it and not pick a player suited to nullifying this. 40% of all attacks that Spurs have come down their left side. Only Wolves (43%) attacked down the left more this season. Not only that but they've created more chances this season (266 – see graphic) than any other team. Johnson will also be important as he has pace to try and counteract Bale's quickness. Whether Johnson can match him or not is another matter. Coupled with the fact that Kuyt has just started to reach some form I think he is a shoe-in for the right midfield position. It is no coincidence that Kuyt has had his best two games of the season against Wolves and Man United where he has played slightly further forward on the right and slightly tucked in, as opposed to a traditional right midfield role in a 4-4-2 which just isn't Dirk Kuyt's game. With Kuyt high up on the right, and with us playing a 4-3-3 formation when we have the ball, and reverting to a 4-5-1 during the transition phase of play, we retain a modicum of attack whilst maintaining a good solid defensive unit when without the ball. Up front, if Suarez is fit I would play him from the start. If he is not fit, then I would like us to play Bellamy up front and start Downing on the left hand side. Both King and Kaboul are big and strong, and both like to compete in the air, in fact Kaboul (89) and Andy Carroll (80) have both won more aerial duels than anyone else in the league this season. They could in essence cancel each other out, with Carroll's biggest strength being in the air, then it may be best to leave him on the bench for this game.
Furthermore, Ledley King has the turning circle of the QE2, so it may well be in our interests to try to get Suarez to isolate him. On a minor note it will do us good to watch how Spurs begin their attacks from the back. See attached graphic. King very rarely plays his passes to centre midfield, more often than not trying to find Essou-Ekotto on the wing.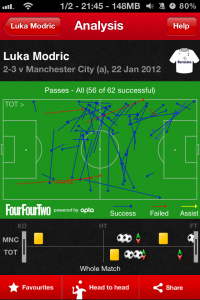 Not only that, but Modric also likes to direct a lot of his passes out to the left wing, as you can see in the attached StatZone graphic. Just more reasons for playing Kuyt high up on the right. It will be Kuyt who will be tasked at trying to cut out phase one possession for Spurs.
Spearing will be essential in operating in the zone between the lines, it will be his job to pick up Van Der Vaart and stop him linking up with Adebayor. It's worth noting that Van Der Vaart was taken off injured in Spurs last game so it's not a given that he will start. We should be aware that Gareth Bale moved into Van Der Vaart's role when he was taken off injured against Wigan. Bale went on to produce a master-class performance, so it is something we need to be aware of. With Gerrard and Henderson making up the centre I believe this gives us a presence in midfield to deal with Modric and the combative Parker. It will be up to both Gerrard and Henderson to take turns in trying to get forward and link up with Suarez and Kuyt and Bellamy on the opposite side. With Lennon injured Kranjcar will most likely start and he is a player who likes to cut in from the wing. With Walker being a more conservative full back I expect Bellamy and Enrique to be too strong for them on our left side.  Both Walker and Enrique will be in direct competition with each other on one wing, and in a statistical quirk, both have shielded the ball out of play more often than any other player this season. Enrique tops with 17 times with Walker second having shielded the ball out of play 10 times this season. Expect the two of them to take the ball into the corner and keep it there for 90 minutes so!
So statistically who are defensively weak in the Spurs side. Take a look at the table below. Red indicates the best statistic in a category, green the worst.
A few things stand out straight away. The amount of green in Ledley King's column, the amount of red, particularly in the attacking area in Assou-Ekotto's column and the amount of red in Kyle Walker's defensive statistics. As I said above, Assou-Ekotto is a real danger on the left hand side and he is clearly Tottenham's best creative defender. He's completed more dribbles (23), has had more accurate crosses (15), is accurate with more of his crosses (22%), more goal assists (4) and creates more chances (26) and more often (every 67 minutes) than his fellow defenders. When you put some of those stats into context: Out of all defenders this season only Ashley Cole (6) has more assists from open play than Assou-Ekotto. In fact no Liverpool player has more than 2 assists from open play this season. And when it comes to defenders who dribble only Evra (30) and Enrique (41) have more successful dribbles than Assou-Ekotto this season. So as I said above we really need to look out for him.
Defensively Kyle Walker wins a higher percentage of his tackles than his colleagues at 84.91%. Considering Martin Skrtel is our best tackler winning 84% of his tackles, then Walker's statistic is quite impressive. However, he has been dribbled past 15 times – with Craig Bellamy probably in direct competition with him it could be an area where we may wish to exploit.
As I alluded to above, Kaboul comes out tops in the aerial department, winning 75% of all his aerial duels, of the players who have attempted 60 or more aerial duels this season only 3 players win a higher percentage than Kaboul – McAuley (77%), Hangeland (77%) and Felliani (79%).  Interestingly Andy Carroll wins 62% of his, so maybe we wouldn't get the best use out of Andy if we started him.
Let's now take a look at the statistics for Tottenham's potential danger men. Take a look at the table below. Again, red indicates a top stat and green a bottom one.
Immediately Gareth Bale sticks out in the passing, dribbling and crossing rows. Adebayor, Defoe and Lennon all come out tops in 3 categories in the goal attempts panel. Not surprisingly Scott Parker comes out badly, however, attacking is not really his game. Likewise, Kranjcar, however he has only started 5 games this season, so his stats may be slightly skewed. I've included him because with Lennon injured it should be Kranjcar who takes his place.
Bale is undoubtedly the form man in the Premiership at the moment. His hype has been built up so much by the media that you expect him to destroy teams every time he plays. To be fair, maybe his level of brilliance has now caught up with that hype. He has now scored 9 goals this season, of all midfielders only Clint Dempsey (10) has scored more than him. He also has 38 successful dribbles, only 8 players can better that this season. His crossing accuracy at 30% is also very good- of all the players to attempt 100 or more crosses this season only Pennant (30%), Eagles (31%) and Jarvis (31%) can match or better that.  Combine that with 7 goals assists, which only Valencia (8) and Silva (12) can better then you have one hell of a contribution from a midfield player. As I said above, Kuyt and Johnson, if they play, will have their work cut out to contain him.
And what about Modric? He has earned rave reviews for some of his performances this season. He has 1282 accurate passes for the season, only Ashley Williams (1304) and Toure (1397) have more, and he has more accurate passes per game than any of his colleagues on the table with a superb 61.05 per game. Not only that he has a passing accuracy of 89%, anything close to the 90% mark is a fantastic statistic. Of the 31 players to have attempted 1000 or more passes this season only 6 of them have a better passing accuracy than Luka Modric. Whoever is marking Modric, will have to get very close to him.
Van der Vaart, surprisingly doesn't have much 'positive colour' in his column. But his statistics are impressive nonetheless. It is just that he is being outshone by the very impressive Bale. Again when you look at all players who have attempted 1000 or more passes this season, only Modric and 6 other players have a better passing success rate than Van Der Vaart on 88%. Interestingly enough, none of those players are forwards, which Van Der Vaart is. He can match Silva himself who has a passing accuracy of 88% also. Van Der Vaart also has an impressive shooting accuracy of 64% – and of all players to score 7 goals or more this season only 3 have a better shooting accuracy than Van Der Vaart – Yakubu (66%), Hernandez (67%) and Klasnic (71%). Having said that, although he is very accurate with his shots, he only converts 16% of those shots into goals. Not the worst statistic by any means but by no means lethal.
Lastly, Adebayor is more than likely to start up front for Tottenham – and with 9 goals this season he is one to watch out for. He has had 34 shots on target, and to put that into perspective, only Dempsey (37), Rooney (38) and Van Persie (47) have had more shots on target this season. Likewise, as with Van Der Vaart, although accurate with his shots, Adebayor's conversion rate is only at 14%. To put that into context, of the 38 players to have scored 5 goals or more this season only Silva (13%) and Suarez (7%) have a worse shot conversion rate. Furthermore, for a 'big man' he is not that good in the air, and actually hasn't scored from a header all season. So with Skrtel marking him, who wins an impressive 77% of his aerial duels, we should have that area covered. On a final note, it's worth noting how Adebayor (see StatZone graphic) also likes to drift to the left when picking up the ball.
Thanks for reading and here's to 3 points and win. You can follow me on twitter here.
If you'd like to write articles like this or get access to Opta Stats you can sign up here: Subscribe Now!