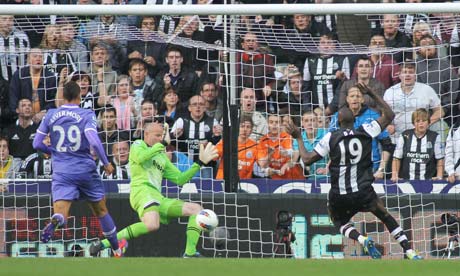 Arguably Newcastle's first real test came on Sunday – Spurs were on good form and were looking for their 5th win in a row.  Many pundits thought we would be found out, but at the end of the match, Spurs were possibly lucky to leave with a point.  After Spurs took the lead on two occasions, only to be pegged back twice by a dogged Newcastle, it looked like there was only going to be one winner, but unfortunately we couldn't find that final goal that would have taken all three points.
Fighting for the team
"There's a massive difference,"  Steven Taylor says of life under Pardew, "and the main factors are determination and team spirit. In the past, we were too divided and accepting of defeat. We lost some big characters in the summer – Kevin Nolan, José Enrique, Joey Barton – and we're a small squad now. But we've now got players of real pace and quality. And we stick together."
It's been evident that one of the positives from this season has been the camaraderie, fight and the determination in the team. Newcastle's performance two weeks ago against Wolves epitomised that and this game was no different.  Our strikers, in particular Leon Best, are willing to fight for the ball and along with the combative Tiote and Cabaye in the central of midfield, Gutierrez has been prepared to help Ryan Taylor to help protect any danger down the left flank.
As you can see from below, each of our front six players was involved in more than ten 50/50 ground duels compared to only three Spurs players.
Cheick Tiote
Since a disappointing start to the season, Cheick Tiote has had an excellent few games as of late and is back to his usual form.  He was deservedly awarded man of the match against Spurs, as he attempted and made more passes than any other player (61/68), had the best percentage pass rate (90%), had the best tackling success rate (5/5) and along with Gutierrez, made the most interceptions in the match (5).
Scott Parker has had a lot of plaudits recently, but as you can see below, Tiote betters him in every category.  Jake Livermore, Parker's partner in centre midfield, had an impressive game for Spurs.
He played better than Parker overall and played a vital part in Spurs' first goal – dispossessing Yohan Cabaye in the centre of the pitch and feeding the ball to Adebayor, who went on to win the penalty for Tottenham.
Jonas Gutierrez
Gutierrez has been an important player in the team, being able to give more protection to Ryan Taylor, who has been temporarily filling in an unorthodox role at left back.  Gutierrez made five interceptions, interestingly all in the first 25 minutes of the first half, helping Ryan Taylor to nullify threat of Gareth Bale down the right wing.
As you can see below that three of Gutierrez's interceptions were in our defensive third (two against Bale), emphasising the importance of the covering he offers to the team.  Bale made only 4 out of 9 passes in those first 25 minutes and changed to his more orthodox left wing role, although he didn't fair much better and had a relatively quiet game overall.
Although Gutierrez offers a lot defensively, his attacking play in the last few games has been very good.  On Sunday, he created Demba Ba's goal, taking on both Modric and Walker to find Ba unmarked in the middle.  Previously against Wolves, he scored a sublime goal, dribbling past four players to slot his shot past Hennessey and was unlucky not to have scored one earlier on in the match.
This season has seen Gutierrez attempt 14 shots on goal, only 7 shots short of his tally for the whole of last season.  It could be argued that his lack of end product in the final third of the pitch has been his downfall, but hopefully this could be his most productive season for Newcastle United.
Leon Best
Leon Best had a relatively unsuccessful day against Spurs, although his work ethic shouldn't be ignored and he was up against the impressive Younes Kaboul, who won 9 out of 13 ground duels and won 7 out of 9 aerial challenges.  Something to note is that Best has failed to register a shot in two games now and failed to register a shot on target in three games, the last being his goal against Aston Villa.  Fingers crossed this is just a minor dip in form.
Piling on the pressure
After bringing on Shola Ameobi and Hatem Ben Arfa on the 71st minute, Newcastle piled on the pressure looking for an equaliser and at times we looked vulnerable at the back.
However, after the two substitutions, Newcastle dominated passing possession, making 99 passes out of 130 (77%), compared to Tottenham's 48 passes out of 77 (62%) – Newcastle completing twice as many passes as Spurs.  Tottenham also made 15 clearances in the last 19 minutes plus stoppage time, 49 in total in the whole match, compared to Newcastle, who only made 16 clearances in the entire game.
Newcastle's possession and persistence paid off when Shola Ameobi scored a stunning goal with his left foot on the 86th minute and we were unlucky not to have added to the scoreline afterwards.  Unfortunately, Coloccini was unable to score from Ryan Taylor's free kick and also from the loose ball that resulted from the scramble.
Summary
Understandably, there were some pre-match nerves before this match.  Our first real test this season and there were doubts whether our full backs could handle the pace and threat of Gareth Bale and Aaron Lennon.  As it turned out, Lennon didn't play and Bale played out on the right wing, but failed to make impact, thanks to some good defending.  He returned his usual berth on the left wing, but failed to produce there as well.
Overall, we played well and after a tight first half, we dominated possession (55% v 45%) and played more passes (373 v 297) with a higher pass success rate as well (75% v 73%).  Going back to Steven Taylor's quote – in recent times, Newcastle have been willing to accept defeat, but to come back twice against a team challenging for a Champions League place shows great determination.  Our captain, Coloccini had an outstanding game in defence, as he has done all season, leading by example.
Eight games played and still unbeaten in 4th place – it's been an amazing start for Newcastle United.  With a home game up next against Wigan, who looked very vulnerable in defence against Bolton – it could see us extend our unbeaten run to 9 games.  Just before a tricky run of fixtures against Stoke (a), Everton (h), Man City (a), Man Utd (a) and Chelsea (h).